Lillie and Dani start school in less than two months. That means backpacks, homework, coats, and shoes need a place to land.
Right now, all of those things drape across our love seat, stack up on the console, pile up on the shoe rack, and get strewn on the floor.
Nope. Nope. Nope. Not any more.
It's time to be able to find the mail, find the homework, find the permission slip when I need to.
It's time to take command of my makeshift entryway. It's time to make it the command center it is screaming out to be.
**cue awesome action music**
I need hooks. I need mail sorters. I need a place to scribble notes.
I need help.
I pretend to be an organized person, but that organized person ran away roughly five and a half years ago when I brought home infant twins.
I need to find my old organizational self and kick her into gear because once school starts, I doubt I'll make the time for it.
So let's start with the space. This is what it looks like now. In a brief moment of motivation, I took two of my mail folders off the wall, and now I have tears in the plaster. Yay me. :/
Those two dressers that act as a console are currently holding scarves, mittens, hats, batteries, and a slew of things that don't need to be in there. I'm thinking I can downsize to one dresser for winter accessories, grocery bags, and miscellaneous office items like pens and stamps. The other can go to the land of Craigslist.
I'm also thinking my little tiny corkboard needs some steroids. That's obviously not enough room for me to pin things...or maybe I should just stop pinning things.
The keys obviously have a nice home, but the mail doesn't. (What you can't see in this picture is the piles of mail on the bar table just to the left.)
The awkward placement of the doorbell and the thermostat do make for interesting obstacles, but I can work with that I'm sure.
Here are my inspirations:
This one is the closest to what I'm going for. I don't really like the cubbies or the lamp, but I do want a small bench, hooks and to keep one of my Rast dressers.
source: Better Homes & Garden
This one has a very cool coat hooks. I like the idea of mixing up the hooks so it's a little playful without being crazy colors right by the door. The small shelf above would be a great place for library books and small things like keys and sunglasses.
source: View From the Fridge
I like the cubbies, the small shelf, and the calendar happening here. Also I will need plenty of hooks for coats, backpacks, and my purse.
source: Get On With It Already
Even though this is far too low key for my entry, I really love the bench and the basket. Plus I could whip up that bench is a few hours. I'm cool like that.
source: DIY on the Cheap by Erin Spain
And finally this one, in all of its organized paper glory. I would like to believe that I could always keep every piece of mail and important papers this organized.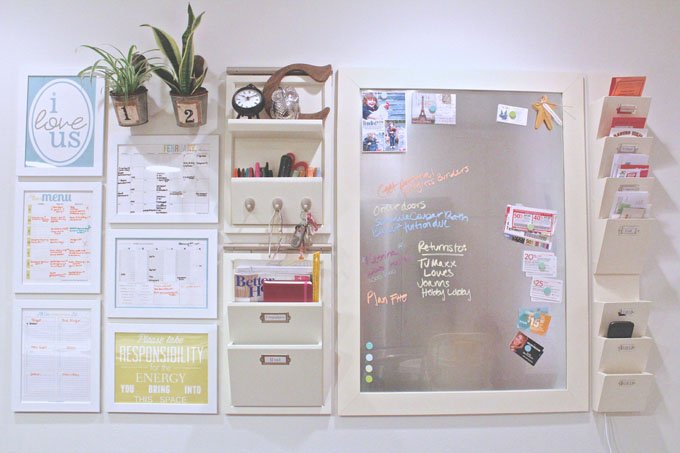 source: The Caldwell Project