To upholster or not is really the question I'm asking here. A few months back, Tim & I took apart the girls cribs-turned-toddler beds because Dani had taken to sleeping on the floor. They've been sleeping on their mattresses on the floors with success (save the occasional room destruction that results in overturned mattresses).
Since the transition from bed to floor, I've been thinking about their big girl beds. Bunks beds were a big consideration, and then my mind turned to loft beds because they could both have a top bunk and room to play underneath. Then my brain started churning again, and I decided that loft beds weren't something that would last. Around 10 or 11, they would want something a little more grown up, and there I am rethinking beds again. Finally, my brain settled on upholstering beds for the girls. I pinned an
awesome tutorial
from a blog called All Things Campbell. I priced out the project and even have a swatch of the chosen fabric pinned (literally, not digitally) to my bulletin board.
And then my brain started up again. (Can someone make it stop doing that all the time?)
Do I really want to upholster beds for the girls? It's a large project that needs quite a bit of space. It's rather involved and something with which they can't help very much. I also feel that I don't have the extra time to make it as great as I want. Then, of course, Pinterest reared its massively addictive head again, and I once again fell in love with beds like this bright happy yellow one (which is actually from a 2 year-old's bedroom):
source: Project Nursery
And this lovely navy one:
And this bright red one (I think Tim's love of WKU would make this one a hit.):
source: Jessica Helgerson via

Design Sponge
Of course, the upholstered look is something that could still happen. I still love the look of twin beds with cushy fabric. Here are a couple so it doesn't seem like I'm completely one-sided.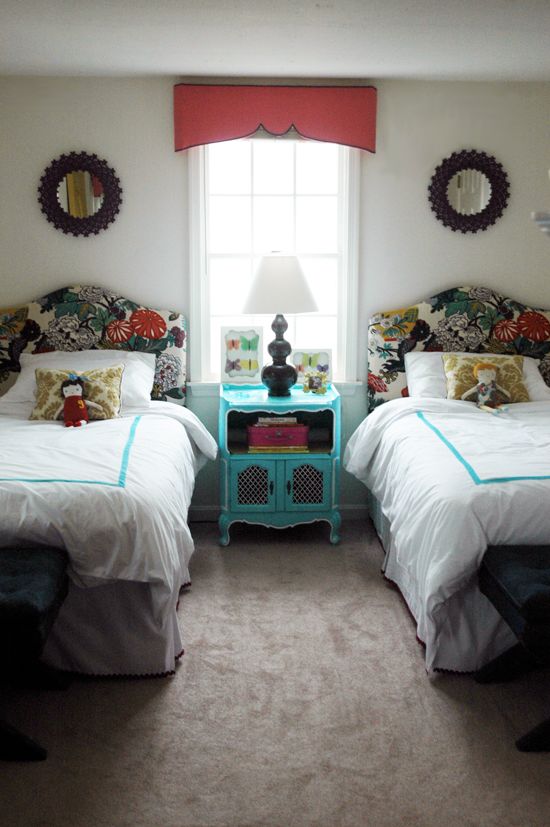 source: Little Green Notebook
source: Domino Magazine
source: Bear Hill Interiors via Cococozy
So... What do you think? Paint or fabric? Weigh in!